How Important is Candidate Experience During the Hiring Process?
HireBest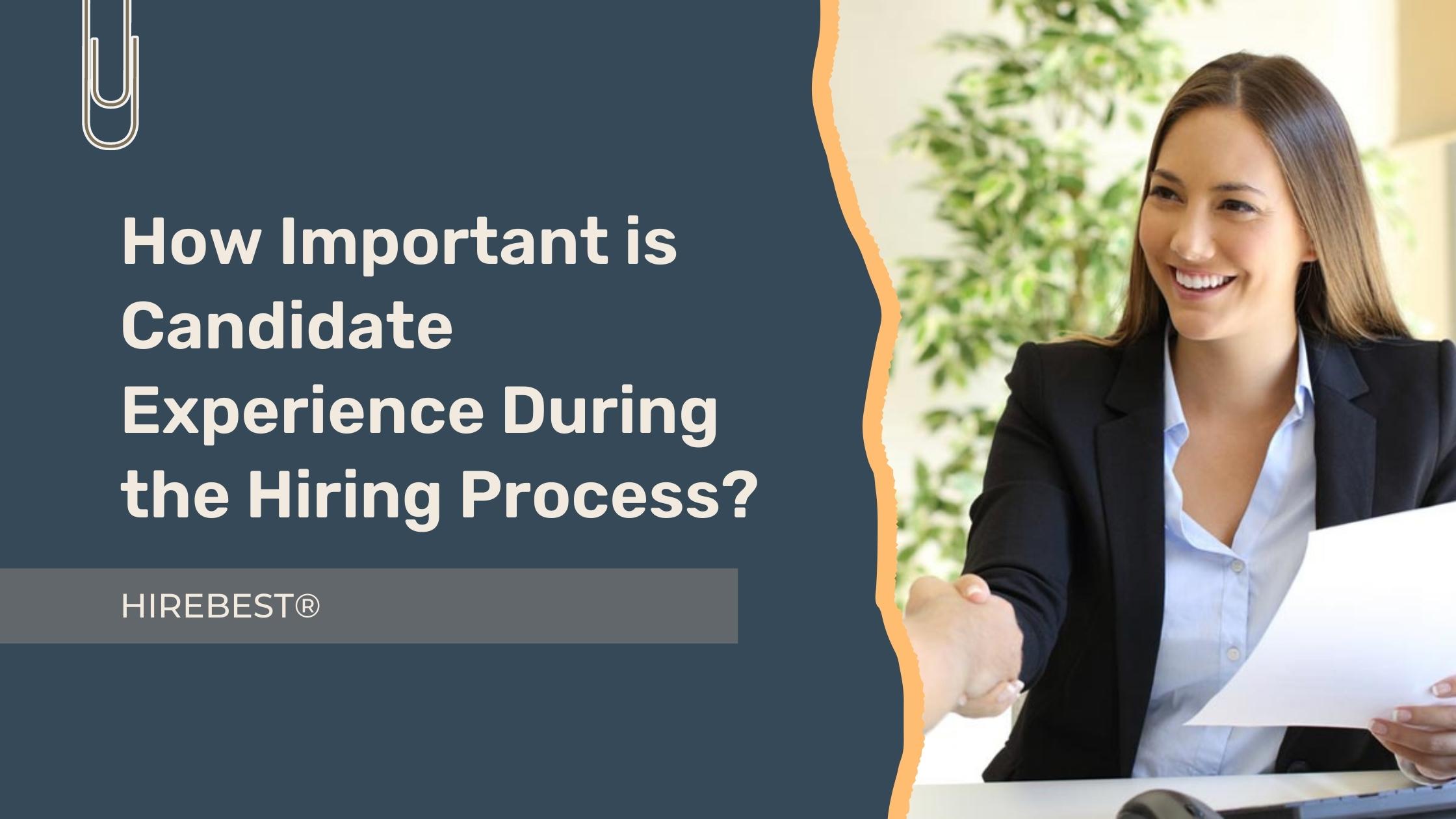 If there is one certainty in the labor market it is this: the environment will only become more competitive tomorrow. Today, the global pandemic has resulted in a widespread skills shortage, making it even more difficult for companies to find qualified individuals.
To be as successful as possible in attracting new talent, recruiters and hiring managers need to understand all factors that can positively or negatively impact their effectiveness. Providing a good candidate experience is vital to finding the best employees, and the return on investment for doing so is invaluable. With the right approach, it is possible to attract and convert more qualified applicants, while also improving the company's brand and even profitability.
Streamlining the candidate experience contributes to a robust pipeline
Many people still believe that an extensive application process serves to weed out those who are not truly interested in the role or the organization. Today, the best candidates have plenty of opportunities and don't need to wade through onerous applications or struggle to figure out confusing instructions.
According to SHRM, 60% of job seekers have given up on an application due to its length or complexity.
A company's website and application should be uncomplicated with the user experience being top of mind. Specialists suggest that recruiters regularly complete the application process for jobs in their company; this process helps to understand the candidate's experience and identify where potential pitfalls may exist. Taking a hard look at job descriptions is one component of this review.
Building a bigger applicant pool is not only helpful for open positions, but it can also help identify talent for future roles; making the process streamlined will ensure that these individuals consider the company in the future too.
The overall experience, good or bad, directly impacts your employer brand
With the transparency that social media provides today, the experience is important even for the people that are not hired. LinkedIn shared the following candidate experience statistics:
83% of candidates said a negative interview experience can change their mind about a role or company.
37% of candidates said they've left a negative review online after having a negative experience.
61% of candidates said they've left a positive review online after having a positive experience.
What's more, while it may seem obvious, it bears repeating: if a person has a great experience when applying, they are more likely to accept a position and turn down other offers. Those new employees are also more likely to be more engaged, feel connected with the company culture, and embrace the company's vision – resulting in internal brand ambassadors who refer colleagues and friends to seek employment at their new company.
The right approach can impact your top line as well
Someone's experience applying for a job might also cause them to not purchase goods or services from the company in the future. Recruiters and hiring managers need to remember that candidates are consumers as well, and likely have strong connections within the industry.
LinkedIn's survey revealed that 9% of employees would tell others not to buy from companies if they had a bad experience when seeking employment -- positive word of mouth is a powerful marketing tool. Additionally, when new employees come on board fully engaged from a positive recruiting experience, they are more likely to have a positive impact the company's growth goals.
How HireBest® can help you improve your process
While there are a multitude of factors that contribute to your company's ability to identify and hire top talent, candidate experience is high on that list. The overall process from your website to how your present job requirements to interviewing all contribute to the end result, making the hiring process truly a team effort.
At HireBest, our proprietary methodology addresses one aspect of this challenge – the huge divide between how employers and applicants regard the accuracy of job descriptions.
HRDive reports that 3.72% of hiring managers say they provide clear job descriptions, while only 36% of candidates say the same.
When taking a critical eye to what you are currently posting, ask yourself, "Could these requirements apply to any company or any position at this company?" If the answer is yes, it might be time to change your approach to attracting top-level talent to improve your results and build a better employer brand.

Resources
Echevarria, Desiree. "2021 Candidate Experience Research: Strategies for Recruiting." CareerPlug, October 1, 2021. https://www.careerplug.com/blog/candidate-experience-statistics.
Robinson, Adam. "More than Half of Job Seekers Say They Wouldn't Apply to a Company with Bad Online Reviews." Inc.com. Inc., October 31, 2019. https://www.inc.com/adam-robinson/more-than-half-of-job-seekers-say-they-wouldnt-apply-to-a-company-with-bad-online-reviews.html.
Starner, Tom. "Survey: Applicant Quality Continues to Plague Employers." HR Dive, July 27, 2016. http://www.hrdive.com/news/survey-applicant-quality-continues-to-plague-employers/423310/.
"The Ultimate List of Hiring Statistics - LinkedIn." Accessed May 2, 2022. https://business.linkedin.com/content/dam/business/talent-solutions/global/en_us/c/pdfs/Ultimate-List-of-Hiring-Stats-v02.04.pdf.
Zielinski, Dave. "Study: Most Job Seekers Abandon Online Job Applications." SHRM. SHRM, August 16, 2019. https://www.shrm.org/resourcesandtools/hr-topics/technology/pages/study-most-job-seekers-abandon-online-job-applications.aspx.